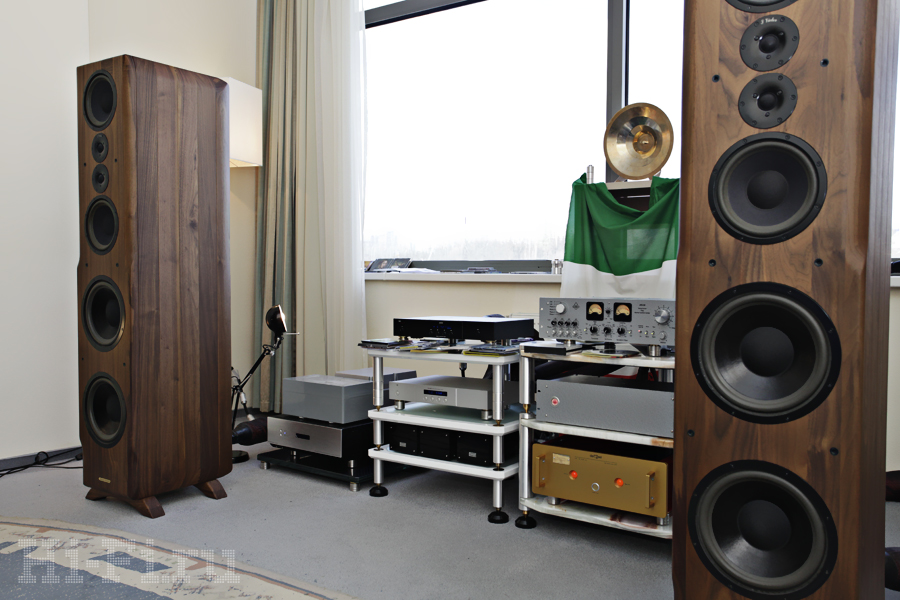 If the Hi-Fi & Hi-End Show 2015 exhibition had awarded medals, the Gong-Stereo brand would have certainly received "gold". The brilliant fidelity of their sound system made the guests stretch time while hanging out with the air of connoisseurs in the listening room and then leaving with clicking their tongues – that system is The System…
Interestingly, the component setup (see main photo) has been compiled of components from completely different manufacturers that didn't combine in design but provided with a strikingly powerful and beautiful sound.
Gong-Stereo in Russia represents a wide range of brands: Hans Deutsch, DarTZeel, EMT, Aesthetix, Acoustic Signature and many others. No doubt, that the company's management are deciphering very well in this variety, and if a buyer has a full purse, they will be able to assemble a perfect setup for any taste.
But I want to highlight just one component - the Sonus Victor acoustics. (Interestingly, I appreciated these speakers in 2015 and in 2016 they won the TOP HIGH END prize - quite deservedly!)
Prior to discovering Sonus Victor I haven't heard a pair of speakers that would have been made nowadays and sound as good as the best from the Golden Era of audio. Maybe I was unfortunate, but believe me, I've audited quite a lot – over a half of a hundred of different pairs.
Sonus Victor is a Russian manufacturer with Italian roots from Verona. Whether the sun fills the lacquered sides of the acoustics with its energy or the local wine nourishes the master's good mood, but in our age of synthetic high-tech the speakers sound in a good old-school manner - lively, brightly and emotionally.
The model range offers sets of six types: SV 100, SV 200, SV 250, SV 300, SV 350, SV 400. The SV 400 were represented on the exhibition being connected to a quite powerful digital line with the EMT/DarTZeel amplifiers. I find this power overwhelming for home use and that the aim of filling your room with the magical sounding of music would be successfully completed with lower range speakers – the SV 350.