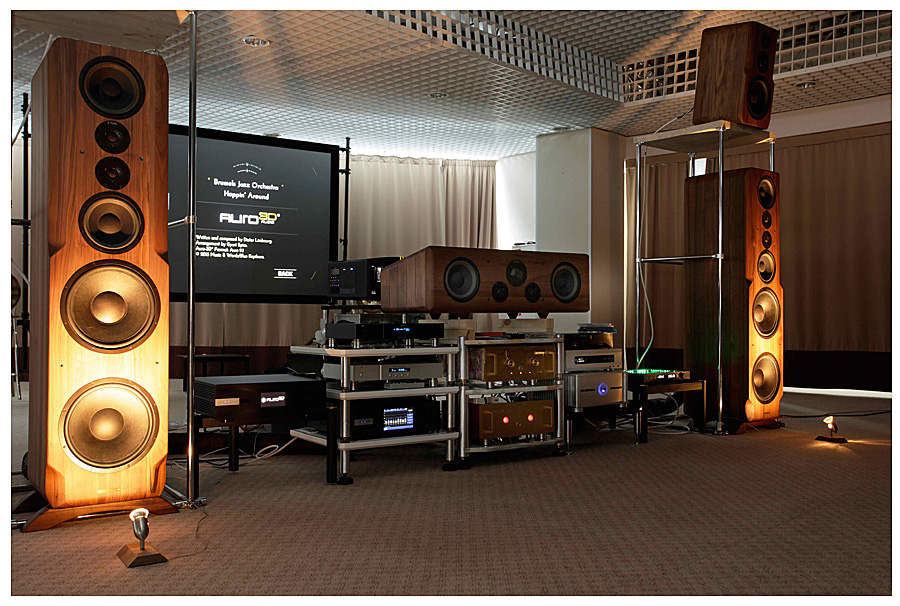 The beloved by Russian audiophiles speaker systems from a young Italian brand with russian roots neither has disappointed this time. Moreover, in addition to the new bookshelf speakers SV 200 and the central channel SV 4, at the brand's show-booth that expanded into the VIP hall on the sixth floor one could experience the advanced surround format Auro 3D. The capabilities of object-oriented recording were demonstrated by a 9.0 speaker setup with four Sonus Victor SV 400 towers, four SV 200 upper speakers and the SV 4 central channel.
The system's electronics were quite diverse – DATASAT processors implementing Auro 3D algorithms were complemented by DarTZeel, Edge and Gold Note combined amplification. A spectacular dimension with convincing sound timbre provided the listeners with complete immersion into the three-dimensional space of Auro 3D, whether for music or movie tracks.
The potential of the new format is truly huge; we only wish that the production of discs with corresponding tracks would match the quantities required to fulfill the market demand. In the meantime, Sonus Victor acoustics continue to delight us with an outstanding sound quality.
Full article: http://www.hi-fi.ru/magazine/audio/antikrizisno-reportazh-s-vystavki-hi-fi-amp-high-end-show-chast-1/