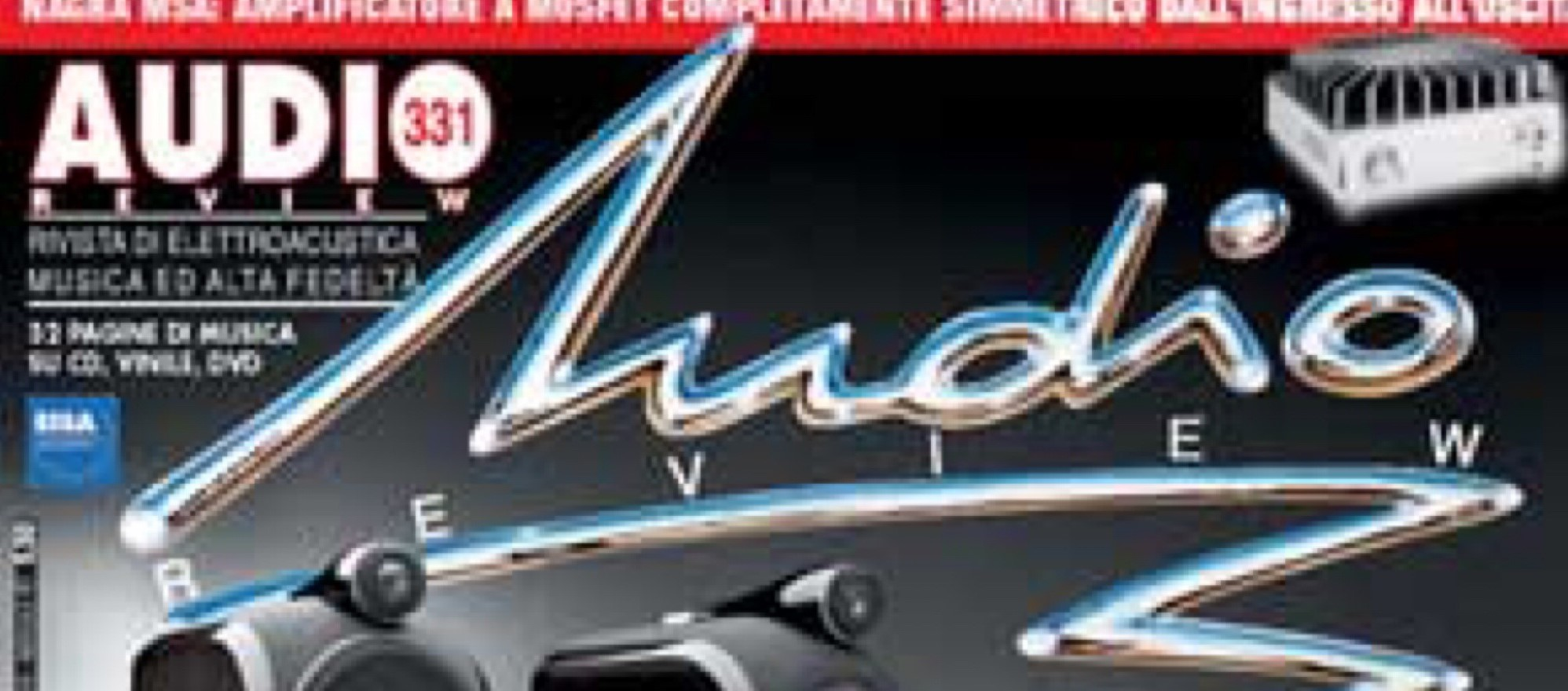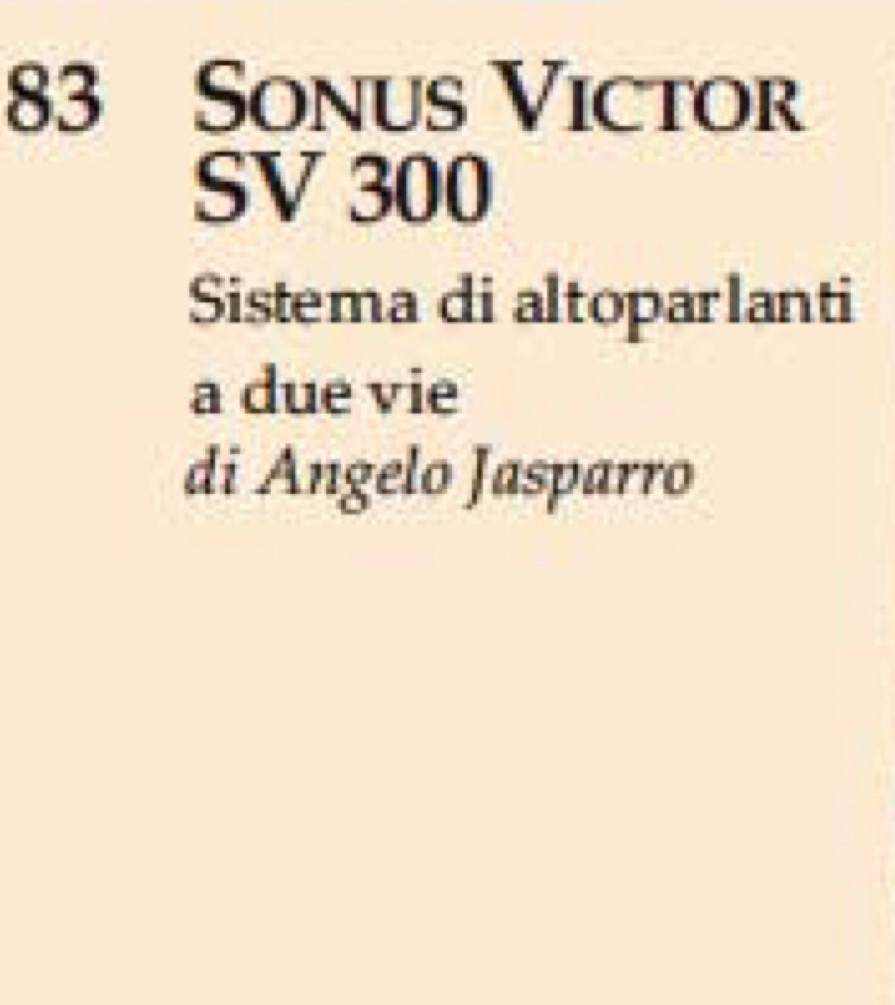 Translated from Italian: Angelo Jasparro (2020)
The Hi-Fi industry is quite overflowing and there are no examples of big investments made by people that start from zero, they would be doomed to failure straight away.
What happens frequently, instead, is that an individual or a small group of people, have in mind an ideal sound and want to build their own devices. At first for their personal satisfaction and then for a larger audience and for commercial purposes. This is the case of Sonus Victor, a brand created by Victor - a Russian that lives in Verona - that was presented at the last Milano High Fidelity show and that received a good feedback from the public. I listened to these speakers at the show and decided to ask the manufacturer to have them for a review. In fact I have been positively impressed by the SV300 and, to tell the truth, these loudspeakers have been the only product that have somehow captured my attention during this year's exhibition.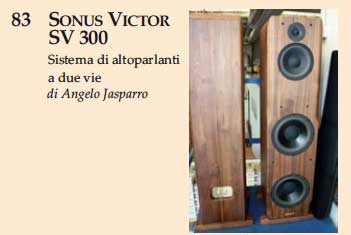 It's harder and harder to find something above the average, average that is quite high actually, in the international market. When we find something that draws our attention we usually want to have it for a review. Experience has taught us that positive or negative surprises are always a possibility; many times we have changed our opinion after a careful listening in our room because it turned out to be very different from the listening done in other spaces.
We received the SV300 and the manufacturer kindly gave us permission to keep them for a couple of months in order to evaluate them thoroughly.
Let me describe the two big loudspeakers using the characteristics given by the manufacturer: 3 ways, impedance 6-8 ohm, closed cabinet, two 25 cm coated paper woofers, one 20 cm midrange in coated paper, one 2,5 cm soft dome tweeter. Sensitivity is 90dB, frequency response: 21-25 kHz 土3 dB, weight 49 kgs. Finishing: solid hickory wood. The crossover is done with Mundorf components that have been selected and paired, the internal wiring is Nordost. The speakers, manufactured in Italy, have been modified upon specific requirements given by Sonus Victor.
The cabinet is bulky and a bit too big for today's standards but it has an accurate finishing and it is in solid wood. The front corners are cut in their upper part in order to give a lighter aspect to this heavy walnut brown parallelepiped. On the sides there are vertical hollows. In the rear part there are the binding posts, two very good connectors covered in plastic that accept any mono wiring cable. Two black grids can be used to cover the speakers when needed. The manufacturer declares that the grids are not sound absorbent; I haven't checked it because I usually listen without grids since I enjoy seeing the speakers that dance to the rhythm of the music.
SV300 have been connected to the following system: turntable Basis 2001, tonearm Graham 2.2, cartridge Lyra Kleos, phono preamplifier:Einstein "The Turntable's Choice", CD/SACD player dCS Puccini + Puccini U-Clock, preamplifier: MBL 4006, power amplifiers: Bryston 7B ST mono, loudspeakers: JBL 4350B, interconnect cables: MIT Oracle MA-X Proline, MIT Shotgun S2 RCA, Transparent Super XLR, Transparent Super RCA, LAT International XLR, loudspeaker cables: MIT Magnum MA, Vovox Initio, USB cable: MIT SL-Matrix USB, power cables: MIT Shotgun AC 1, Black Noise Pearl and others DIY, mains distributor: Lector Edison 230/8, mains filter: Black Noise 2500.
When we received the loudspeakers they were brand new and their performance was not good especially in the low range. To appreciate the sound of these items a break in period of 50 hours is necessary and recommended.
Once done the break in we are ready for the first listening and we start with Paolo Conte and his "Psiche". For the first time I hear in it some uncertainties of the bass player, he also seems to hit a wrong note. This fact draws immediately my attention. I skip to another voice that gives my demanding ears a lot of satisfaction: Bruce Springsteen and the E Street Band in "Thunder Road" (Columbia). The timbre is correct and very similar to that of my reference system. I do not recall exactly the voice of the Boss because it's been a couple of years since I last saw him live, but these SV300 reproduce his voice as I remember it is in real life.
With the "Miserere" by Allegri from the SACD " Hear My Words" (Chandos), the soundstage of St John's College is less wide if compared to my reference but is deeper and I assure you that this is a sensation that is not easy to put on paper. The solo singers' voices stand out from the choir and at the same time remain in their position losing some of the glamour typical of the hi-fi mode listening, but remaining closer to reality. Solo singers in fact were most of the time mingled with the rest of the choir, or positioned one meter ahead of the others therefore the public could not hear any difference.
The sound of the SV300 is more ethereal, a photographer would say "flou", but at the same time music is well reproduced and the upper range is open. The timbre is correct and is somehow romantic so that the listener is encouraged to keep on listening. For this reason I suggest to use for these Sonus Victor an amplifier that has a neutral and rigorous timbre. I'd rather say a Bryston and not a Pass, just to give an example. You may say that the sound is coloured but for me it would be more correct to say that it is a mellow, vintage sound that recalls the 70's. Some time later while talking to Victor he confirmed that this was exactly the result he wanted to achieve.
Usually mellow does not match with "hard rock", but I would not take into consideration loudspeakers that don't sound good with this music genre.
I take a look at my vinyl collection and select "Stormbringer", a record by Deep Purple (EMI) that dates back to 1974. The opening song dissipates all doubts, the tweeter reproduces the cymbal's bell in a very credible way while the volume is set at "live" levels. And this is not a joke since the 115 dB are easily reached; these are levels that our ears can stand for just a few minutes in the listening room otherwise annoying tinnitus are the price to pay. I enjoy the record up to the moving "Soldier of Fortune". I take note that in "Hold on" all the hits on the snare drum arrive straight to your breastbone.
Hell yes, this is the right way to listen to rock, with these SV300 you feel like playing along with your drumsticks and in the excitement of the moment their sound seems to be very close to that of my big JBLs.
While I listen to "Lady Double Dealer" - yes, I told you that I listen to any kind of music - I see the LED of the Bryston amp become orange. This a clear sign of a possible clipping and also of the the fact that these loudspeakers utilize a great amount of power without any distortion.
The loudspeakers play the music loudly with great ease and show no dynamic compression or reduction of the soundstage.
These SV300 are very demanding therefore you'll have to work hard on their positioning to bring out the best in them. It is important to find the right position in order to have a balanced mid low range and a correct soundstage because they tend to have more depth than width.
I found out also that Supra Ply cables do not perform very well with these SV.
The sound of Brahms 4th Symphony executed by the Wiener Philharmoniker directed by Carlos Kleber (CD Amadeus) is very close to what the most demanding melomaniac likes. Sometimes the mid low range is not 100% correct but important features such as soundstage, tonal structure and dynamics are very well supported, better than in other loudspeakers present on the market.
Brahms 4th symphony is probably the last great symphony of the music history, it is a sum of romanticism, classicism, lyrics, dynamic, passion for composition and powerful execution. My personal love for Brahms music is undeniable and well known by my readers.
At the risk of resulting monotonous I play now Bruce Springsteen's CD "The Ghost of Tom Joad" that I use in my reviews since the day of its publishing. The low range is once again very present and the high range is smooth and just a little bit rearwarded. The midrange is full of details that are not too highlighted.
It's time to listen to the big acoustic organ played by Rick Wakeman in "Close to the Edge" by the Yes ( I Get Up I Get Down) and it is a mystic experience, the SV do their best to make me feel in that far away time and space.
It's a world of real music well reproduced by these full range loudspeakers that handle high SPL's better than the average.Chris Squire's bass has the right space and importance.
Time for sad notes, 20.000,00 euros are a lot of money for well known manufacturers and therefore an immensity for a newcomer.
I will not tell you to buy these SV300 without thinking for two reasons: first of all the price that requires a serious evaluation of these loudspeakers and secondly their performance.
I must say that I have spent my time pleasantly with these Sonus Victor and that their sound has the characteristics that I have stated in the lines above.
I do not recommend these loudspeakers to those that love the sound of Kharma for example. And I do not know if these are words of praise or criticism, it's up to you to judge. The performance and the price level are high in both cases and personal tastes are undeniable.
We can say that " the design represents the sound", a warm and enveloping sound for home-level volume listening, complete and enjoyable; also a higher volume can be easily reached but we lose some degrees of tonal accuracy.
These Sonus Victor are very pleasant to listen to. It's a first work that makes us feel hopeful for the future. We can only wait and see what happens and eventually let you know, if you wish.
Angelo Jasparro